Dramatic Video Shows 18-Wheeler Flying Off Texas Highway Overpass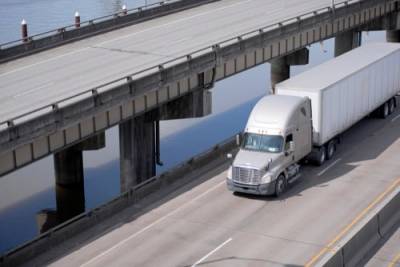 Three weeks ago, a semi-truck collided with another vehicle on a U.S. 75 overpass. The truck, which was traveling at highway speeds, drove off the highway overpass, flipped in the air, and burst into flames as it crashed onto the road below. Dashcam footage from cars waiting at the intersection below the overpass captured the incident, in which the driver of the semi-truck died.
Texas has the tragic distinction of leading the nation in fatal truck accidents. More than 30,000 commercial vehicles get in accidents every year on Texas roads, and several hundred people die in these accidents. If you or someone you love has been injured or killed in a semi-truck crash on Texas roads, it is essential to understand your legal options for recovering compensation.
When Can I Sue a Truck Driver for Injuries or Death?
Determining liability is the first step in exploring whether compensation can be obtained for a truck accident, but it can take some work. Sometimes the truck driver is responsible, sometimes the trucking company is responsible, and sometimes the shipping company that loads a truck is responsible for an accident. Sometimes even the person who was injured or killed in the accident with the truck is responsible for the accident.
In general, however, a driver's negligence or recklessness is responsible for most accidents. Such accidents can occur when a driver does any of the following:
Drives on the phone, while eating, or with other distractions

Fails to obey traffic laws

Fails to use turn signals or properly check blind spots
Other factors that contribute to trucking accidents that may be the liability of the trucking company, shipping company, or even a trucking manufacturer include:
Improperly maintained vehicles, especially in regard to tire wear and tear

Poor driver training

Insufficient or negligent inspections

Bad weather
If you have recently been injured or have lost a loved one in an accident with a semi-truck, a personal injury lawsuit may be the last thing on your mind. Fortunately, a Texas personal injury attorney can help you so that your case is manageable and you can focus on recovering.
Get Help from a Texas Semi-Truck Crash Lawyer
In only a split second, an accident with a big rig can change many lives forever. If you have suffered serious injuries or a loved one passed away because of a truck accident, contact a Bexar County semi-truck crash attorney with Alford & Clark Injury Attorneys. We will actively investigate your case to determine whether a truck driver or company was responsible and, if so, work aggressively to negotiate or litigate a fair settlement or award for your pain and suffering. Call us today at 210-951-9467.
Sources:
https://www.wfaa.com/article/news/local/one-dead-semi-truck-flies-off-us-75-overpass-collin-county-allen-texas/287-7c55fff0-d5e1-4022-b177-eb07f7601fdb
https://ftp.txdot.gov/pub/txdot-info/trf/crash_statistics/2021/28.pdf