Refinery & Plant Accidents
San Antonio Refinery & Plant Accident Attorney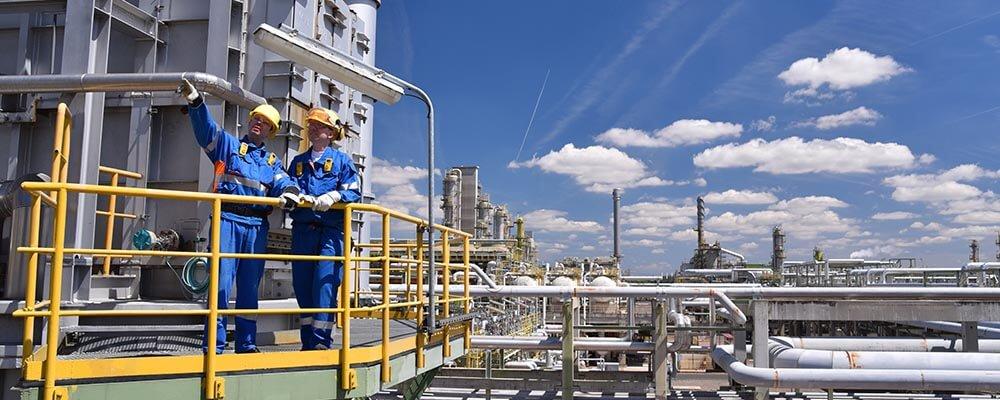 San Antonio Refinery & Plant Accident Lawyer Serving Texas
For those who have not worked in oil refineries or other industrial plants, it can be difficult to understand the level of effort required and the safety issues that affect workers on a daily basis. Unfortunately, this means that workers who are injured in industrial accidents can sometimes struggle to recover both physically and financially. In these situations, determining who was responsible for an accident is not always easy, and employers, insurance companies, or other liable parties may attempt to do everything they can to minimize the compensation a person can receive. To ensure that they will be properly compensated for workplace injuries, refinery and plant workers will want to be represented by a lawyer who understands what they are going through.
The team at Alford & Clark Injury Attorneys has personal experience in the types of work performed by oil field and refinery workers. Our attorneys come from a blue-collar background, and we know first-hand what it is like to work long shifts performing manual labor in industrial settings. This provides us with a strong understanding of the actual safety issues that affect workers and the ways that employers often cut corners or fail to follow regulations. In addition to our hands-on employment background, we also have the legal knowledge to address the methods that industrial companies and their insurance carriers use as they attempt to minimize the value of a work injury claim. We are ready to stand up to large corporations and ensure that injury victims will be properly compensated.
Compensation for Oil Field, Refinery, and Industrial Accidents and Injuries
When working in an industrial setting, the risks of injury are high. Multiple types of accidents and injuries can occur, including:
Injuries involving machinery - Industrial plants and refineries have multiple types of complex equipment. Improper operation of equipment may result in a person's limbs becoming entangled in machinery, which can result in severe bodily harm or disfigurement. Some accidents may occur because the proper safety procedures were not followed, such as failing to lock out equipment while maintenance or repairs are being performed.
Fires and explosions - While working around oil or volatile chemicals, fires can occur, leading to burn injuries, smoke inhalation, or other issues affecting the health and safety of workers. Explosions can be even more dangerous, and workers may be injured by shrapnel or falling equipment.
High temperatures - Workers may be exposed to extreme temperatures when working in industrial settings, and the hot climate in Texas can make working in a plant or refinery even more unbearable. In some cases, heat stroke or exhaustion may occur, and even if workers do not suffer injuries directly caused by heat, these conditions may cause them to be more likely to make errors that can lead to dangerous accidents.
If you are injured on the job, the remedies that you will be able to seek will depend largely on whether or not your employer maintained workers' compensation insurance. If your employer is insured, you will qualify for medical and disability benefits, no matter whether you or your employer were responsible for your injuries. In some cases, you may also be able to take legal action to pursue compensation from third parties who were liable for an accident or injury, such as the designer or manufacturer of defective equipment or machinery.
If your employer was a non-subscriber at the time of the accident, you may be able to bring a lawsuit against the company to recover compensation for personal injuries sustained in the course and scope of your employment. In these cases, you will need to demonstrate that your employer acted negligently and that this negligence was responsible for your injuries. Unlike other personal injury cases, Texas law will prevent your employer from using certain arguments to avoid liability, including claiming that you were guilty of contributory negligence by failing to act prudently, that you assumed the risk of injury, and that the injury was caused by the negligence of a fellow employee.
In especially egregious cases of employer and co-worker recklessness or intentional acts that tragically end in death, even when there is workers' compensation coverage, the surviving spouse and children of the deceased employee are allowed under the Texas Workers Compensation Act to bring a suit to recover exemplary damages from the employer. Those exemplary damages are designed to punish wrongdoers rather than to provide compensation for losses suffered by a victim or their family.
Contact Our Bexar County Industrial Accident Attorneys
If you have been injured while working in an industrial plant or refinery, our lawyers will help you determine all possible sources of compensation, and we will do everything we can to make sure you will have the financial resources you need to recover after an accident. Contact us today and set up a free consultation by calling our firm at 210-951-9467. We have offices in San Antonio, Corpus Christi, Houston, Dallas, and Austin, and we provide legal help to clients throughout the state of Texas.