San Antonio Driver Fatigue Accident Attorney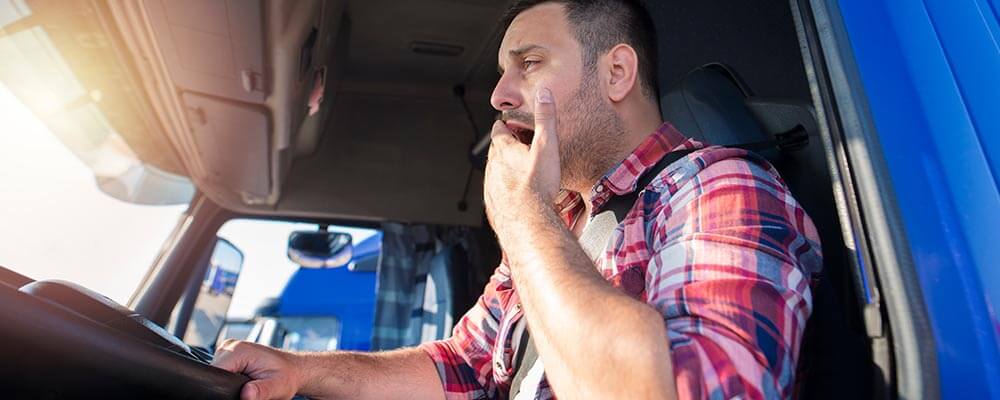 San Antonio Driver Fatigue Accident Lawyer Serving Bexar County
18-wheelers and other commercial trucks are large, complicated pieces of equipment. When fully loaded, tractor-trailer trucks can weigh up to 80,000 pounds. Due to this massive size, these trucks are likely to inflict severe injuries on people in other vehicles in the event of a collision. Truck drivers are required to obtain commercial driver's licenses and receive training to ensure that they can operate 18-wheelers safely. However, even when drivers are fully qualified, they can easily make mistakes while behind the wheel. Driver fatigue is one of the most common reasons why these errors occur, and it can greatly increase the likelihood that a truck driver will be involved in a truck accident.
With our experience representing victims of motor vehicle accidents, Alford & Clark Injury Attorneys knows how serious truck wrecks can be, and we have seen first-hand the devastation that can occur when truck drivers and trucking companies fail to follow the proper safety procedures. Driver fatigue is an increasingly serious concern that affects the safety of everyone who uses the roads. If you have been injured because trucking companies allowed or encouraged their employees to violate safety regulations, you will need a strong legal representative to ensure that you can achieve justice. We believe in fighting for the rights of those who have been injured, and we can help you take action to hold a trucking company responsible for the harm you and your family have suffered.
Dangers of Truck Driver Fatigue
There are multiple laws and regulations that apply to commercial truck drivers, including "hours of service" regulations that limit the amount of time they can spend driving during a shift and the total number of hours they can be on-duty each week while also requiring them to take regular breaks and get a certain amount of rest or sleep between shifts. However, there are many situations where drivers may violate these regulations, and they may sometimes be encouraged to do so by trucking companies that are looking to ensure that cargo gets delivered as quickly as possible.
Even if a truck driver follows the regulations that apply to them, they can experience fatigue that affects their ability to safely operate a commercial vehicle. Spending multiple hours on the road can be tiring even in the best of conditions, but when truck drivers are required to drive at irregular hours, they will be more likely to become drowsy. A variety of other issues can also lead to drowsiness and fatigue, including the use of alcohol, illegal drugs, or prescription or over-the-counter medications. Health issues that affect a person's ability to get proper sleep, such as sleep apnea, can also increase the likelihood of drowsiness during a long driving shift.
Driver fatigue can be incredibly dangerous. Studies have shown that if a person stays awake for 18 hours, the effects on their body are similar to having a blood alcohol concentration of .05 percent, and being awake for 24 hours is equivalent to a BAC of .10 percent. Notably, the BAC limit for commercial drivers is .04 percent, which is half of the legal limit for non-commercial drivers. Failure to receive proper sleep, fatigue during a long driving shift, or drowsiness due to health conditions or other reasons can be very similar to drunk driving. Fatigue can drastically affect a truck driver's ability to maintain control of their vehicle, respond to conditions on the road, and avoid dangerous accidents.
Contact Our Bexar County Truck Driver Fatigue Lawyers
When truck drivers act negligently by driving while drowsy, or when trucking companies fail to follow safety practices and encourage drivers to continue driving when it is unsafe to do so, dangerous accidents can occur that may cause others to suffer severe injuries. If you have been injured in a commercial truck wreck, Alford & Clark Injury Attorneys can investigate the collision to determine whether driver fatigue was a factor, and we will fight on your behalf to make sure the negligent parties are held responsible. To learn how we can help you pursue compensation for truck accident injuries, contact our office today and set up a free consultation by calling 210-951-9467. When you work with us, you will never be required to pay attorney's fees until we recover financial compensation for you. Our firm has offices in San Antonio, Austin, Dallas, Houston, and Corpus Christi, and we serve clients throughout the state of Texas.