Did Falling Truck Cargo Cause Your Injuries? Multiple Parties May be Liable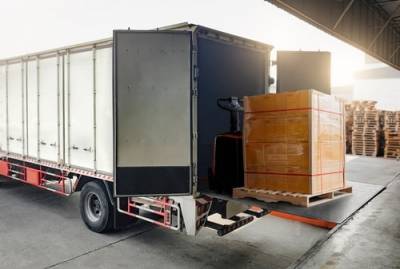 Nearly 5,000 fatal crashes in the United States involve large trucks each year. It is no secret that a large truck has greater momentum especially when loaded with cargo. That alone can lead to a greater impact and drivers in smaller vehicles can suffer serious injuries. When truck accident injuries occur, the consequences can be serious. Financial costs quickly mount and you may be unsure who is responsible for your injuries. At Alford & Clark Injury Attorneys, we have represented clients in a variety of truck accident cases and understand the safety issues and forms of negligence that are often committed by truck companies. We will fight to try to ensure that you are properly compensated.
Weight Limits
There are weight limits for commercial vehicles to ensure that trucks are operated safely. Unfortunately, some companies violate these laws and overload the trucks. These practices are not only dangerous to the driver but to everyone else on the road.
An overloaded truck is more difficult for a driver to control. More time and distance will be needed to slow down. At high speeds, a top-heavy vehicle is likely to roll over. On the other hand, if cargo is not loaded properly it could lead to dangerous accidents. When cargo is not evenly spread out, the truck can be harder to control, especially when it comes to lane changes and turns.
Loose Cargo
Truck drivers must ensure that their cargo does spill out of the truck into oncoming traffic and pose a hazard. Cargo must be tied down correctly with straps or chains. But sometimes those too can be defective and break. Because cargo is often large, it can cause great damage and serious injuries to other drivers or passengers. On major highways, this may lead to multi-vehicle pileups.
Proving that a Truck Driver is Negligent
Truck wrecks involving cargo can be complicated because multiple parties may have been involved in loading cargo onto a truck and multiple vehicles may have been impacted by falling cargo. When mistakes occur it is often due to negligence. People who sustain injuries in an accident involving a truck crash must prove the following elements in order to recover damages:
The truck driver or trucking company violated a prevailing standard of care

That violation caused the accident

One or more physical injuries were suffered

Injuries are directly linked to the truck accident
Seeking initial medical treatment is key. It will demonstrate to the insurance company that your injuries are serious in the event that you seek to file a personal injury claim or lawsuit.
Contact a San Antonio Truck Accident Injury Lawyer
If you suffered a devastating injury in a cargo-related truck accident, a skilled Austin truck accident injury attorney can try to help you get the compensation you deserve as a result of someone else's negligence. At Alford & Clark Injury Attorneys, we know how to investigate these cases in which there are often multiple parties involved. Call 210-951-9467 for a free consultation.
Sources:
https://www.fmcsa.dot.gov/safety/data-and-statistics/large-truck-and-bus-crash-facts-2020
https://statutes.capitol.texas.gov/Docs/TN/htm/TN.725.HTM
https://www.ntea.com/NTEA/NTEA/Member_benefits/Technical_resources/Understanding_the_consequences_of_driving_overloaded_vehicles_whitepaper.aspx