Are you Considering a Lawsuit After Being Injured at Work?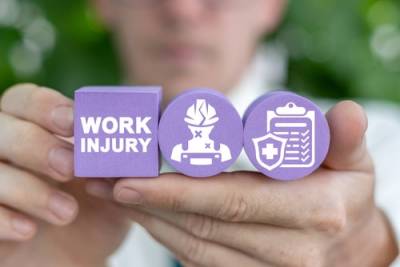 Slips, trips, and falls in the United States are among the top three causes of accidents suffered at work. Injuries such as sprains and tears often lead Texans to take time off of work and have to pay costly medical bills. Most people think that the state workers' compensation program will take care of everything but there are limitations. In Texas, private employers are not required to carry workers' compensation insurance. So what are your options? Here we will explore third-party liability.
Who Can Be Liable for My Injuries?
In most states, if an employer subscribes to the state insurance fund employees are legally barred from suing the employer in civil court. You may receive benefits that may not fully cover your expenses. In some cases, you may be able to take legal action against other parties at the worksite who are partially responsible for your injuries. If you can demonstrate that a third party caused your injury at work, then you can file a personal injury lawsuit against that company or person to recover damages.
This is especially significant in construction jobs where there are all sorts of hazards not to mention the complications of these types of job sites often involving subcontractors. It is an industry in which precautions and safety measures must be implemented and enforced to minimize the risk of injuries. You may be able to bring a claim against one or more parties if some of the following third parties were negligent and caused your injuries:
Owner of the premises where work was done

Delivery personnel

Repair personnel

Contractor or subcontractor

Manufacturer of defective items at a job site
One of the keys to a successful work injury claim is conducting a quick and thorough investigation. This may involve talking to witnesses who saw the accident occur and gathering any video footage that may have captured the incident. It's important to act quickly to preserve any evidence that may be critical to your case.
Compensation You Deserve
When it comes to work-related injuries, employers often try to dispute liability. This can leave employees frustrated and unsure of what to do next. However, if you have been injured on the job due to the negligence of a third party, a personal injury lawsuit may be the best course of action. Unlike workers' compensation, a personal injury lawsuit may allow you to recover the full amount of past and future wages as well as pain and suffering and for the loss of quality of life.
Proving that a third party is negligent can be challenging but if you can do so, you may be entitled to significant compensation. This can help you cover medical bills, lost wages, and other expenses that may arise as a result of your injury.
Contact a San Antonio Third-Party Liability Lawyer
Do not let someone else's negligence go unpunished. If you have been injured at work and are not sure what to do, consider pursuing a personal injury lawsuit. An experienced Austin third-party injury attorney can help you understand your options. At Alford & Clark Injury Attorneys, we have extensive experience proving third-party negligence and recovering compensation for our client's injuries. Call 210-951-9467 for a free consultation.
Sources:
https://injuryfacts.nsc.org/work/work-overview/top-work-related-injury-causes/
https://www.tdi.texas.gov/pubs/consumer/cb030.html#
https://www.bls.gov/news.release/pdf/osh.pdf